IIT JEE is a common entrance test for all engineering colleges in India, so that they can select students based on their performance in the entrance test.
The main aim of IIT JEE is to ensure that only the best and the brightest students enter into the higher educational institutions in India. If you want to get admission in any of the reputed universities like IITs or NITs.
Around 9.5 lakh students appear for the JEE Advanced exam each year in order to gain admission to IITs, NITs, and other prominent engineering colleges.
The JEE Main exam is one of the most demanding assessments and requires the correct preparation method.
Despite the fact that coaching is beneficial, it is one of the most significant variables in passing the JEE.
You'll find out how to prepare for the JEE in this post. With a constant effect, CatalyseR tries to maintain the consistency every year.
CatalyseR marked a great achievement with 74% students qualified in JEE (Mains) & 22% conversion in JEE (Advanced) against National Ratio Of 20% in JEE (Mains) & 1% in JEE (Advanced).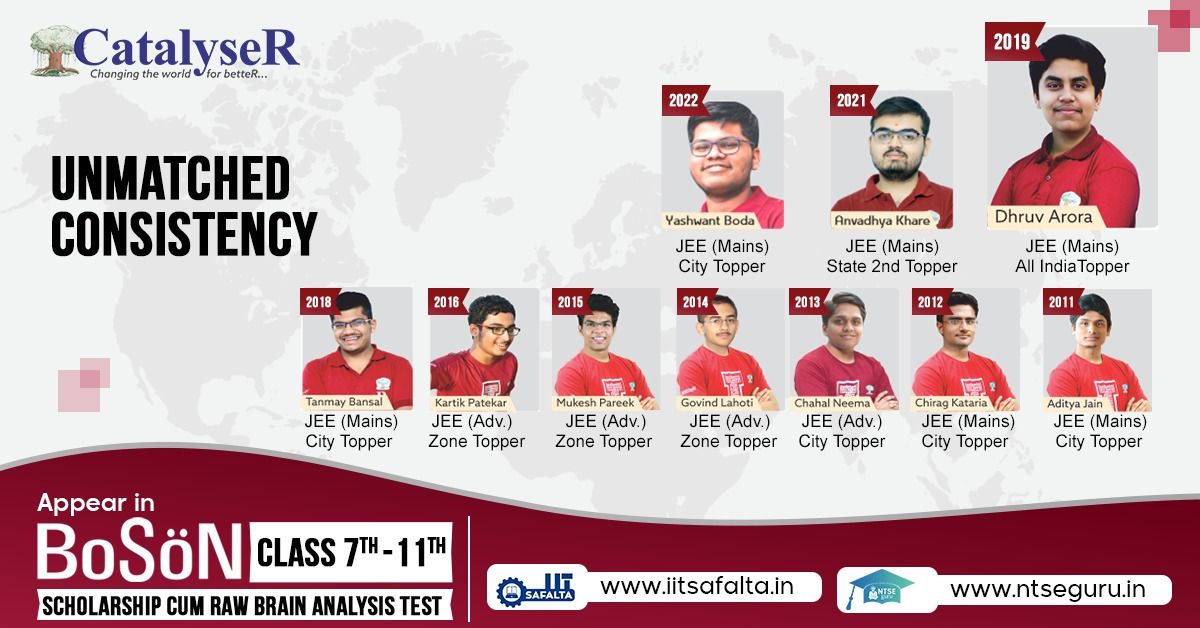 9 Important Tips to prepare for an IIT JEE Mains Exam
1. Plan a daily schedule
It is important to plan a daily schedule for the IIT JEE exam. The exam timing is fixed and if you miss it or change it, it can be disastrous.
A good way to prepare for the exam is by setting up a daily routine that will help you in concentrating on the questions at hand. Also, the time allotted to each section of the question paper should be appropriate for each section.
2. Eliminate the distractions
It is very easy to get distracted while studying. So make sure there are no unnecessary things around you, like mobile phones, laptops or other electronic devices that can distract you from your studies.
You might also want to keep some space between your desk and window so that you can focus better on the subject without any distraction from outside sources.
Also watch: Overcoming Distractions Part-1
3. Clear your Doubts
One of the important steps towards preparation is to clear your doubts. If you have any doubt in your mind, then it's better to sort it out before taking the preparation to the next level as it will help you avoid unnecessary confusion.
You can also take the help from the faculties to clear your doubts or even ask them to take the individual doubt session on particular topics.
4. Work On Weak Topics
Many students struggle with weak topics in their IIT JEE preparation. This is because they don't start early enough to build a strong knowledge foundation.
While it is possible to improve weak topics in the last few months, it is more effective to work on weaker topics initially.
By ensuring that you have a solid understanding of your core subjects, you will be better prepared for the test. You can do this by studying regularly and preparing for each section of the exam by practising questions.
You should also ensure that you have a comprehensive knowledge base before you start preparing for the IIT JEE.
By doing this, you will be able to pick up on any weaknesses as soon as you see them and address them sooner rather than later.
5. Stay cool and Motivated
During examination days, your mind will be filled with too many thoughts and there are high chances of getting stressed out if you don't follow some simple tips like staying calm and relaxed during exams.
Also, avoid studying in a crowded room as this can lead to mental health problems like stress or depression which may hamper your performance in future exams as well as on a daily basis.
6. Quality Over Quantity
For your preparation, one thing that you need to keep in mind is that quality is more important than quantity. When it comes to your preparation, don't just focus on studying all day long.
Instead, take breaks and study at different times during the day. This will help you stay focused on studying and avoid getting bored during your tests or exams.
Read: Changing approaches to exams.
7. Know your Syllabus
One needs to know the syllabus of IIT JEE. You can get detailed information about the syllabus through the internet or by contacting an institute representative.
If you want to prepare properly then it is better to start preparation by going through your course syllabus. This way you can know what topics will be asked in the exam and also how long each topic will be covered.
Image with CTA (9 Toppers in Last 12 Years)
8. Learn from NCERT Books First
For a person seeking admission in a professional course, one of the most important steps is to understand the subject thoroughly.
Moreover, it is important that you study from the NCERT books well, so as to remember them better when you sit for the IIT-JEE exam.
When done with the NCERT books then refer to other publications too like R. D. Sharma for Maths, Arihant Publication and many more.
9. Solve JEE Previous Year Question Papers
Once you have completed the required study time and are confident about the topics that you are weak in, you can start solving JEE previous year question papers.
You can also opt to solve mock tests while you attempt JEE previous year papers. Moreover, you can sign up for online mock test series, and attempt practice tests regularly in order to improve your score in the actual IIT JEE Mains exam.
Conclusion
Finally, have faith in yourself. The exam might be difficult or sometimes seems very tough to crack, but you need to motivate yourself again and again and keep moving forward.
Because cracking the National-exam is not an easy task. Therefore, you need to get motivated with full Discipline, Dedication and Determination. Big things take time.