Best Olympiad Coaching Classes in Indore, India
Olympiads often prove beneficial for students. Through this exam, students learn more about the subject of their interest and build a deeper understanding of it. The Olympiads prove to be excellent platforms for kids to display their priceless talents.
CatalyseR is the best Olympiad coaching in India and has given tremendous results with 5 consecutive zone toppers, one All-India topper, and 5 International Olympiad medals. In the past 12 years, CatalyseR has produced 9 IIT JEE city toppers.
CatalyseR, the best Olympiad coaching in India is India's most prestigious institute for Olympiad Training. Having produced the best spectrum of results from Olympiad, CatalyseR is also known for its caring attitude towards the students. It believes that 'Education doesn't confine itself within 4 walls'.
Why Choose CatalyseR Coaching for Olympiad Preparation?
With the help of NTSE Guru Prof. Vipin Joshi, lay the groundwork for the competitive exam.

Learn unique physics concepts from Mr. Sumit Upmanyu Sir.

127 Physics/ Chemistry Olympiad selections

5 International Olympiad medals

29 selections of physics chemistry and Astronomy Olympiad

INMO 16 years long record smashed

Catalyser Won Medal for India among the 80 countries in the competition

Use of Informative Technologies to Enhance Knowledge.

Produced All India Rank 1

9 times IIT JEE city topper in last 12 years

5 consecutive IIT zone toppers

Produced All rank 3 (twice) and rank 6
Olympiad Exams Offered by Catalyser
Catalyser, the esteemed coaching for Olympiad exams preparation, offers a diverse range of Olympiad exams to cater to the academic and intellectual growth of students.
Here are the Olympiad exams in India offered by Catalyser:
NCO:

The NCO is a prestigious exam that assesses students' knowledge and understanding of computer science and information technology. It evaluates their problem-solving abilities as well as their understanding of digital concepts

IMO:

The IMO is a well-known Olympiad exam in India that assesses students' mathematical and analytical ability. It challenges students to solve complex mathematical problems and fosters critical thinking.

RMO:

The RMO is a highly competitive examination conducted at the regional level. It aims to identify mathematical talent and nurture it further for higher-level Olympiads like the INMO and IMO.

IAPT:

The International Assessment for Progress in Science is designed to assess students' scientific knowledge and understanding of concepts in various disciplines of Science. It helps in identifying students' strengths and weaknesses in the subject.

JSO/IJSO:

JSO is conducted at the national level to nurture students' interest and talent in Science. Students who excel in the JSO may qualify to represent India in the IJSO on a global stage.

NSO:

NSO is a mandatory test that assesses students' understanding and application of scientific principles in several fields of science. It encourages students to explore and excel in the field of Science.
How to Register for Catalyser Olympiads
CatalyseR, the best Olympiad coaching in India has streamlined the Olympiad registration process to make it user-friendly. CatalyseR welcomes applications from both individual students and schools. Schools have the option for class or subject teachers to apply on their behalf.
To understand how to apply for an Olympiad exam, follow the steps provided below.
Visit our official website (https://www.catalyser.in/)

Register yourself by filling out the required webpage.

You can apply for monthly as well as annual Olympiad

For monthly and annual Olympiad, select the desired subjects you want to participate

Click on the button "I agree to terms and conditions"

Click Signup
You will be directed to the payment gateway, after which you will receive a confirmation message. You can log in with a mobile number.
Inspiring Stories of Toppers at CatalyseR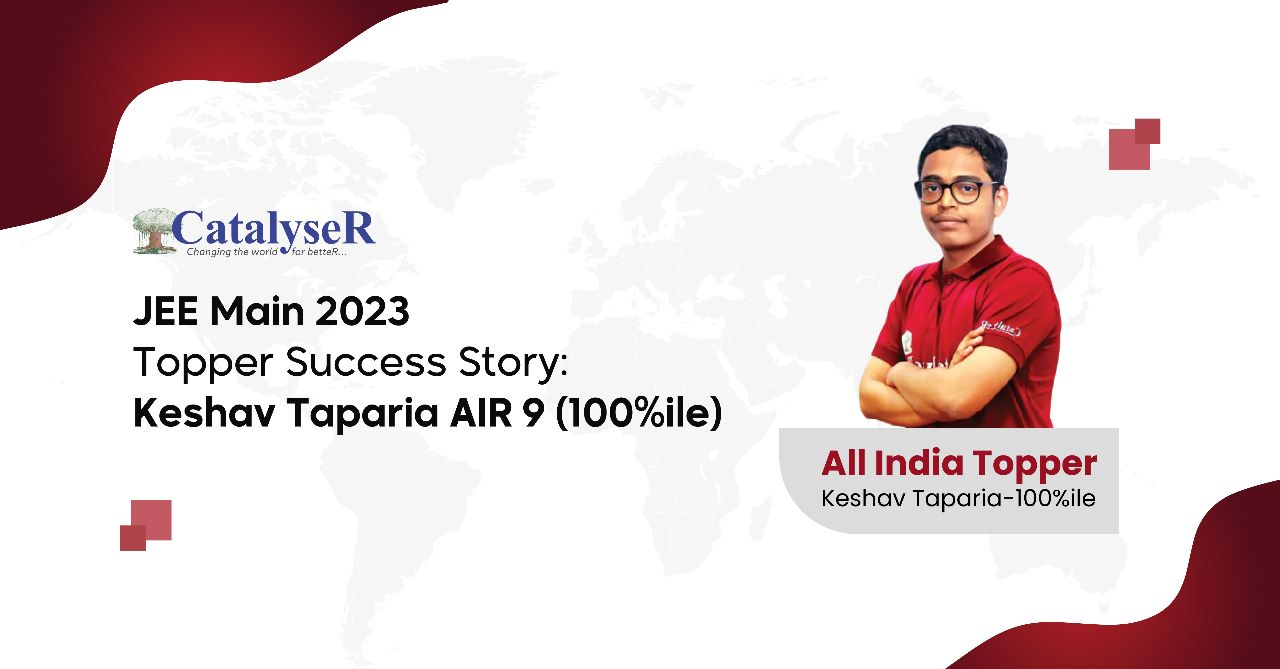 Keshav's journey with Catalyser began when he enrolled in their program in class 8. The institute helped him improve his academic performance, which resulted in excellent grades in class 10.
Catalyser continued to guide him, and Keshav's skills improved significantly, which helped him excel in class 12.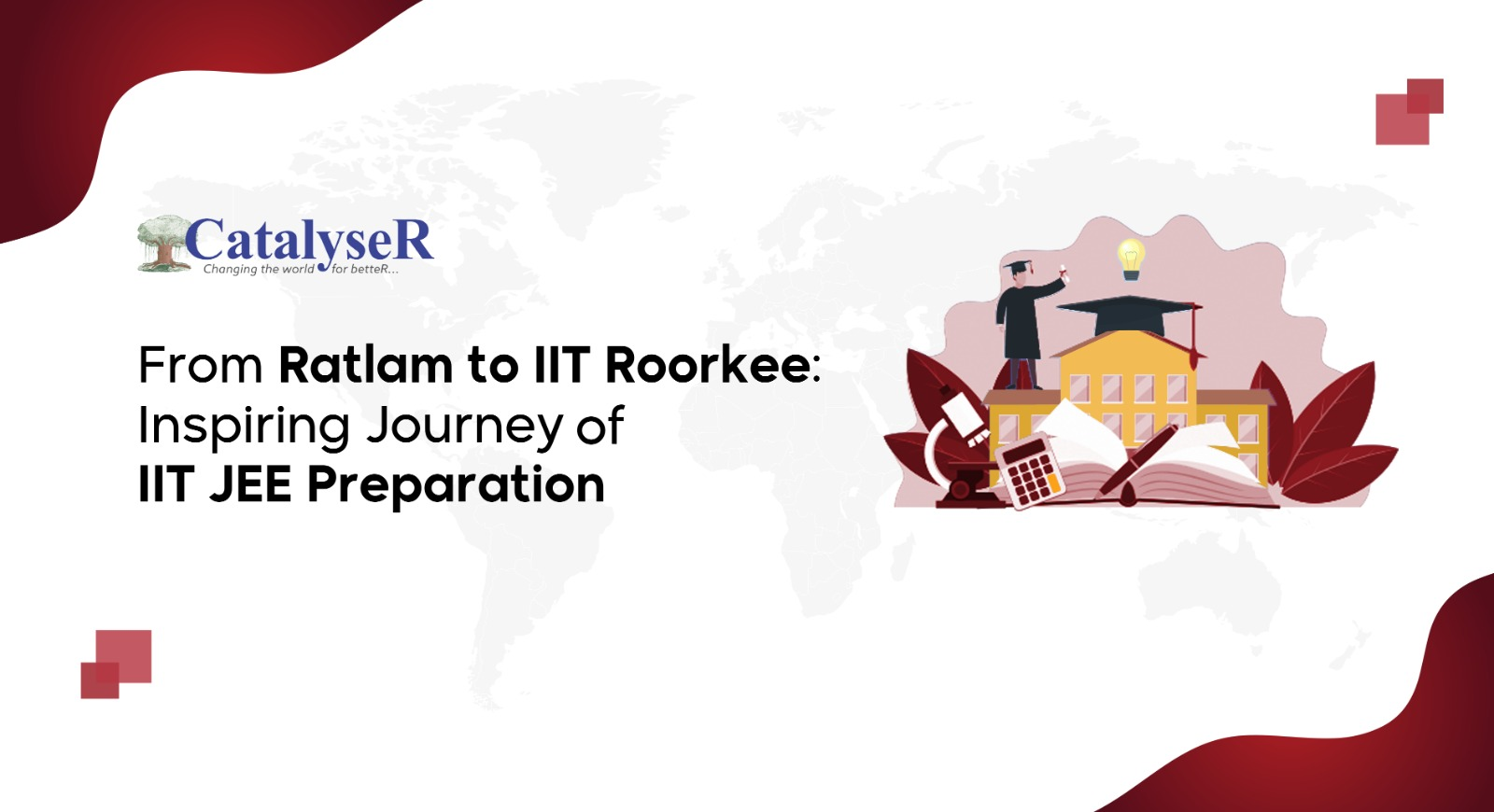 Sanskruti developed a keen interest in chemistry, maths, and physics during her 9th and 10th grade. Based on her passion for these subjects, she made a decisive choice to opt for the science stream and pursue engineering. Supported wholeheartedly by her family, she was well aware that turning her dreams into reality demanded unwavering dedication and persistent hard work.
Sanskruti Asthana, hailing from Ratlam, Madhya Pradesh, has become a source of immense pride for her family as she secures a coveted seat at one of India's most prestigious engineering colleges, IIT Roorkee. Her remarkable journey from Ratlam to IIT Roorkee serves as a true inspiration for countless students who harbor dreams of pursuing a successful career in engineering.
In an interview, she said "There were times when I felt demotivated due to not getting the expected marks. I went to Sumeet Garg Sir, one of my teachers (Director) at Catalyser, and shared all the struggles. I find CatalyseR as the best Olympiad coaching in India.
Olympiads are nationwide examinations that provide students with an opportunity to compete against others at their educational level. These competitions are designed to challenge and stimulate students beyond the regular school curriculum, encouraging them to think critically and creatively.
Olympiads are known for promoting intellectual development, problem-solving abilities, and fostering a passion for learning among students.
Participating in Olympiads provides students with valuable exposure that boosts their learning and confidence, enabling them to excel and secure admissions to top colleges. Qualifying for the National/International stages of various Olympiads is highly regarded by prestigious universities, giving students a competitive edge in the admissions process.
Olympiad classes online are designed to challenge and test your knowledge and skills beyond the regular school curriculum. We provide an opportunity to explore advanced concepts and apply critical thinking to solve complex problems
Catalyser, an Olympiad training class for exam preparation, provides a wide array of national and international Olympiad exams to cater to the academic and intellectual development of students.
CatalyseR offers:

National Science Olympiad (NSO)

National Mathematics Olympiad (NMO)

International Mathematics Olympiad (IMO)

National Cyber Olympiad (NCO)

International English Olympiad (IEO)

International Science Olympiad (ISO)

International General Knowledge Olympiad (IGKO)

International Talent Hunt Olympiad (ITHO)
As eligibility criteria for Olympiads may vary depending on the specific exam and its level, it is essential to

contact our support team

.

Olympiads conducted by Catalyser are open to students studying in different classes or age groups. These Olympiad training classes aim to encourage and challenge students' knowledge and skills in various subjects, fostering their academic growth and problem-solving abilities.
CatalyseR offers comprehensive study materials for Olympiad exams in India that include:
Subject-specific textbooks and reference books

Sample question papers and previous year's exam papers for practice

Online resources like video lectures, and interactive study platforms

Mock tests and assessment papers

Practice exercises and assignments
Participating in Olympiads demands hard work and dedication. To boost student morale, maintain motivation, and encourage them to showcase their best efforts while continually improving, various enticing prizes are offered to the meritorious students. These prizes encompass scholarships, cash rewards, cutting-edge gadgets such as laptops and tablets, certificates of merit, and more.
Individual students can register for Olympiad exams by completing an online registration form. A wide range of subjects, including Science, Maths, English, GK, Computer, Drawing, Essay, and Social Studies, are available for participation. Students have the flexibility to participate in any number of subjects. Most subjects, except for Drawing and Essay, consist of multiple-choice questions carefully designed by subject experts based on the latest syllabus prescribed by the school board.